Day 2

Woke up at 8am, changed and packed my small backpack, and went for a walk around the hotel. We spent our 1st 2 nites in Green Garden Hotel, a small yet beautiful hotel located in Tuban area. I was very amazed at its architectural design, how the designer cleverly fitted so many rooms and a lovely swimming pool in such a small piece of land (which i think could fit a lobby for a normal Msia hotel).

View of the hotel from my room balcony
Reception cum restaurant


Looking up to my room from the poolside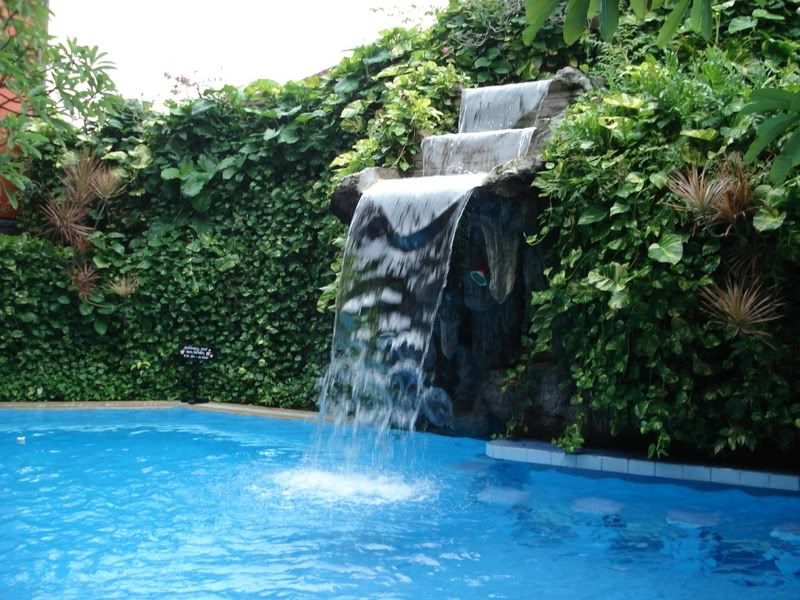 Lovely swimming pool


Buffet breakfast - eat all you can =)

After breakfast, me and garfield decided to folo Bao to tour around Denpasar, while the rest of the tourmates decided to walk around Kuta area on foot. and so we went to look around at the small shops around the hotel area while waiting for Bao and our transport to come...
Actually all these shops sell similar products, like clothes, surf pants, wood craft souvenirs...
I got mouth-itchy and asked for the price for surf pants... then it started... the lady keep stopping us from leaving, price for the surf pants dropped from 60k per piece to 100k for 4 pcs. So we "thought" that the deal's not bad, and so we bought them. (and later in the afternoon, we realized that some place is selling at 25k per piece o.O")
Finally when we met up with Bao and her bf (and of course the pajero), we headed straight for lunch around Denpasar area...
the famous Babi Guling - different parts of the pig, cooked in 7 ways
this meal cost around IDR 16750 per pax, inclusive of a fruit juice
After lunch, we moved on to a popular spot for souvenir shopping - Denpasar Art Market.
But unfortunately...
Everything above 2nd floor got burnt till nothing left... and it just happened a few days ago...
But we had fun visiting their local wet market, which is very similar to what we have in Msia...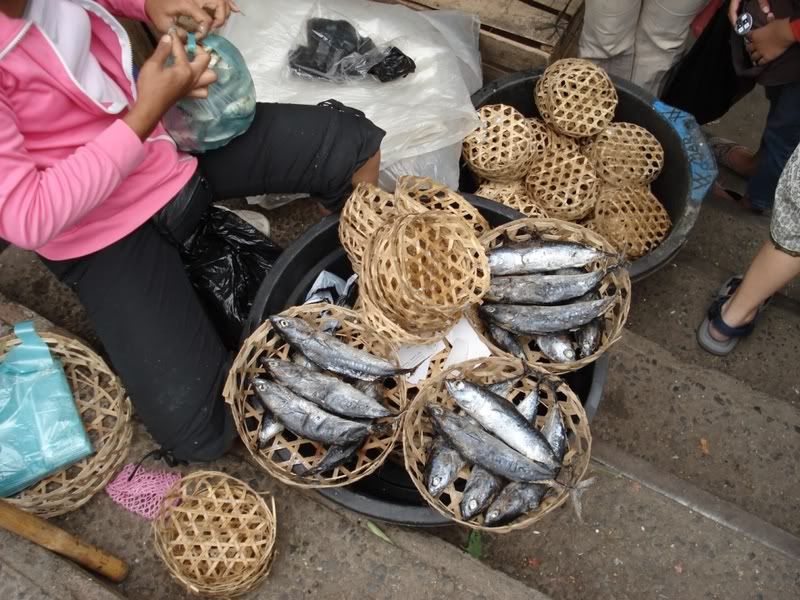 While we're eating all the big big fishes in the restaurants, this is the only kind of fish that I saw in their wet market...
Almost 30 % of the stalls are selling items that are used in worshipping...
Fresh Flower petals for sale... buy a bag then you can have your own flower bath in hotel =)
Yummy roast chicken...
Some delicious looking local delicacies that we didn't get to try...
Cute aunty... haha...
-to be continued-